Learn more about Tideline's work in the impact investing industry.
Latest News and Developments
Stay up-to-date on the latest news and developments at Tideline and across the impact investing industry.
Learn how to turn a climate investment strategy into a climate impact strategyWhat does it mean to be a climate impact investor? Despite rigorous debate on this topic and the beginning of regulatory action, there remains widespread confusion about the difference...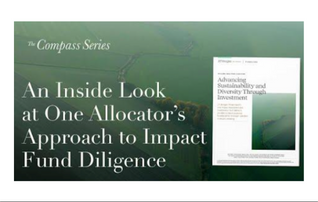 In this Compass Series event, Tideline was joined by asset managers, allocators, and service providers to discuss the key developments in the impact investing industry that are laying the groundwork for full-scale institutional adoption. The conversation built...
This month in the Tideline Compass Series, Ben Thornley moderated a discussion with some of the world's largest allocators and most innovative investors in climate—drawing a contrast between thematic investments in climate-related market sectors, versus true...
In Tideline's inaugural Compass Series panel on December 15, 2020, Tideline's Ben Thornley and Duke University's Cathy Clark reflect on five years of progress since introducing the concept of 'impact classes', and the increasingly essential role of impact...
March 9, 2020 | Tideline and The Rockefeller Foundation partnered up to lead an engaging discussion on why impact verification is key to scaling the market with integrity in a virtual event entitled Impact Investing's Next Chapter: Integrity Through Assurance. Watch...
October 22 – 25, 2019 | At SOCAP19, Ben Thornley moderated a session entitled "The Time for Action and Accountability in Impact". Panelists Diane Carol Damskey (International Finance Corporation), Elizabeth Boggs Davidsen (UNDP), Sasha Dichter (60 Decibels), Leticia...